2019 Product of the YEAR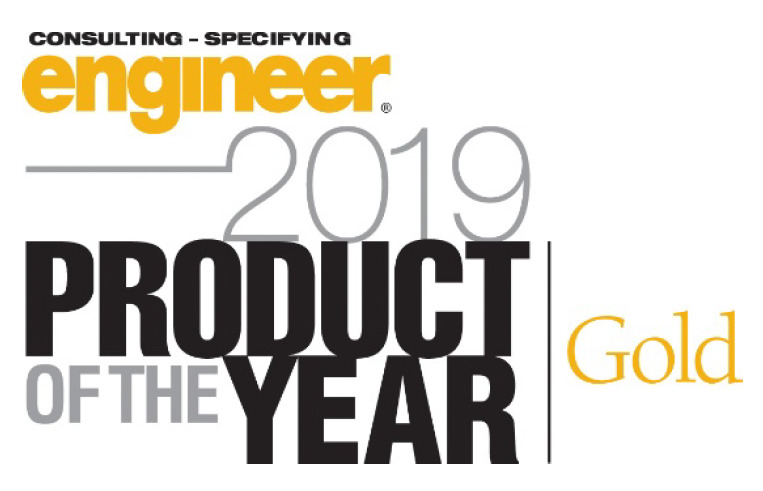 Greenheck is excited to announce the DS direct drive HVLS ceiling fan has taken the Gold Award
in the Air Movement & Humidification category of CSE's Product of the Year program.
Product Details
Greenheck's new Model DS direct drive, high volume low speed (HVLS) ceiling fans feature an optimized airfoil design for maximum efficiency and coverage area. Licensed to bear the AMCA Seal for Circulating Fan Performance, Model DS is available in eight sizes ranging from 8 to 24 feet in diameter with performance up to 243,000 cfm. With its unique direct drive motor, the DS is up to 20% more efficient than other HVLS fans and up to 10 dBA quieter.
Greenheck DS fans include a 3.5 ft. drop tube with universal ceiling mount; factory-mounted, wired and programmed variable frequency drive (VFD); and plug-and-play wiring design for quick, easy installation. Every DS fan ships with over 10 standard safety features including fan impact detection, intelligent VFD and motor protection, and redundant fan restraint systems. Full color customization and an array of accessories and control packages are available. Greenheck DS fans are ideal for destratification, comfort cooling and condensation prevention in warehouse, manufacturing, automotive, education and retail applications.
| | | |
| --- | --- | --- |
| Release Date: | | 11/12/2018 |
| Product Categories: | | HVLS Fans (Ventilation Systems) |
| Product Industries: | | Automotive (OEMs, Suppliers); Material Handling, logistics, warehousing |
| Model/Version Number: | | Greenheck Model DS |
Features
• Fan sizes range from 8 to 24 ft. with air movement up to 243,000 cfm
• Direct drive motor to improve energy efficiency by 20%
• First HVLS with AMCA Seal for Circulating Fan Performance
• Designed with 10 safety features for any application
• "Plug and Play" design –reduces installation time by over 50%